Big things are happening at Allfred! Our latest version is packed with tailored updates, designed to meet the unique needs of Users, Project Managers, Managing Directors, and CFOs. Whether you're focusing on enhanced agency planning, a comprehensive expense overview, or streamlining your invoicing process, we have you covered.
Table of Contents
1. Improved Planning and Performance
In our quest for efficiency, we've revamped how you manage allocations and tasks. Now, creating and completing allocations is faster and more seamless. Experience scheduling through drag-and-drop allocation durations and other intuitive features.
You can now also easily customize your workspace by adjusting colors, allocation heights, and displayed information.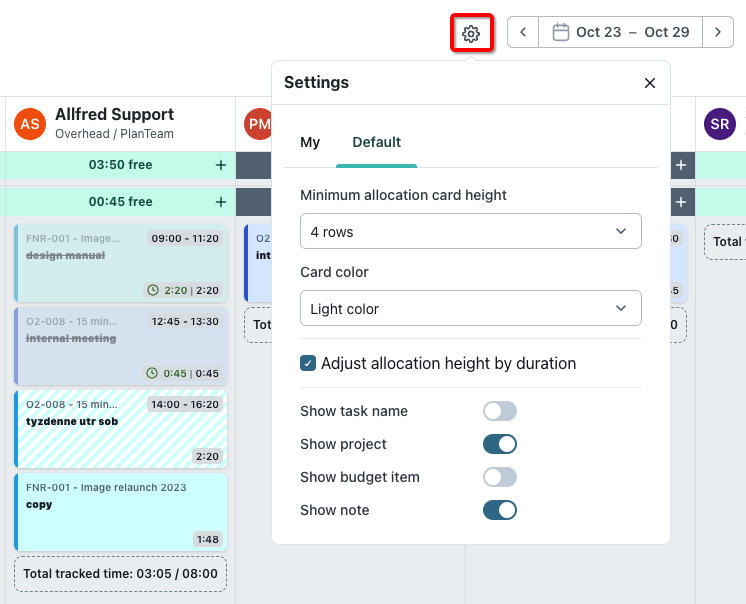 2. Advanced Expenses Overview in Project Detail
Managing expenses has never been this insightful. Our latest feature empowers you to access crucial information about buy prices and expected profits directly within the project details. This real-time collaboration of actual and estimated profits allows you to effortlessly compare current costs against projected figures. Once expenses are received and the budget item is closed, Allfred automatically calculates the final profit, ensuring accurate financial analysis.

3. Create Project directly from Proposals
With our new feature, approved budget proposals effortlessly transform into active projects. Once your budget proposal receives internal and client approval, create a new project directly from the Proposals list with just a click of the "+project" button.

4. Unassign and Delete Budgets
Take charge of your project budgets with newfound flexibility. Unassign budgets from projects or delete them entirely, enhancing your project management capabilities. To ensure data integrity and controlled access, only CFOs and Admins have the authority to delete budgets.

5. Multi-Recipient Invoice Distribution
You can now set multiple email addresses for sending invoices. Whether specifying multiple recipients in the billing address or adding them individually before sending the invoice, the choice is yours. What's more, we've put the power of personalization in your hands – you can now effortlessly edit the email body before dispatching the invoice.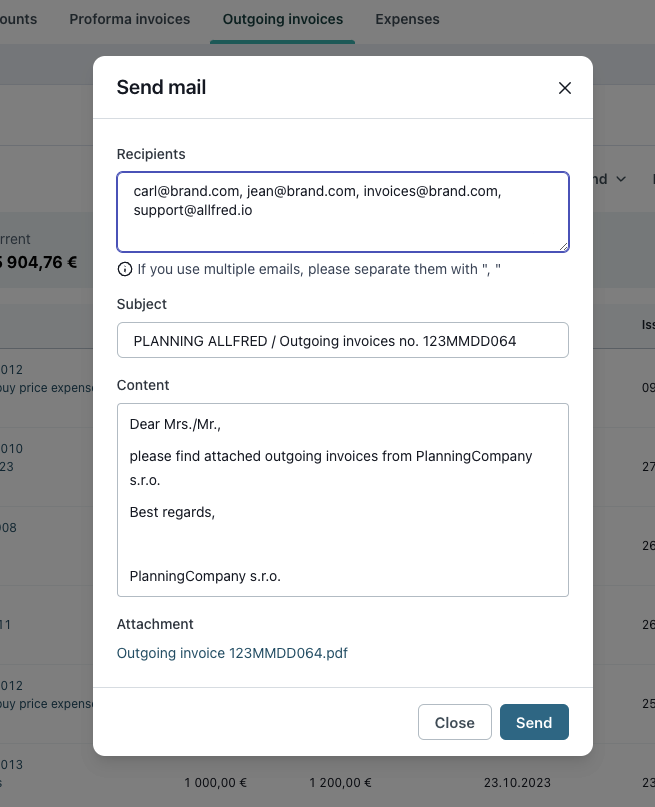 6. Delete Invoice and Edit Invoice Numbers
Managing invoices has never been easier. You no longer need to reach out to support to delete invoices or modify invoice numbers. We've streamlined the process, putting the power directly in the hands of your CFO.
7. Smaller Changes for a Smoother Experience 🙂
Setting Default Position Sets and Rate Cards: Tailor your settings effortlessly for seamless project management.
Date Validation Off in Invoicing: Set invoice dates based on your needs (to turn off validation, please contact support@allfred.io)
Project Billing Details: Access more insights, including the amount to be billed in the future and credits used from prepayments.
Tooltips for Enhanced Task Orientation: Enjoy a more intuitive task management experience with added tooltips.
Full Names and Code Names Display: Gain better orientation with full names and code names displayed for enhanced clarity.
Elevate your productivity, streamline your processes, and unlock new levels of efficiency with Allfred's latest features. For detailed information on each feature, explore our Knowledge Base. Upgrade your project management journey with Allfred today!